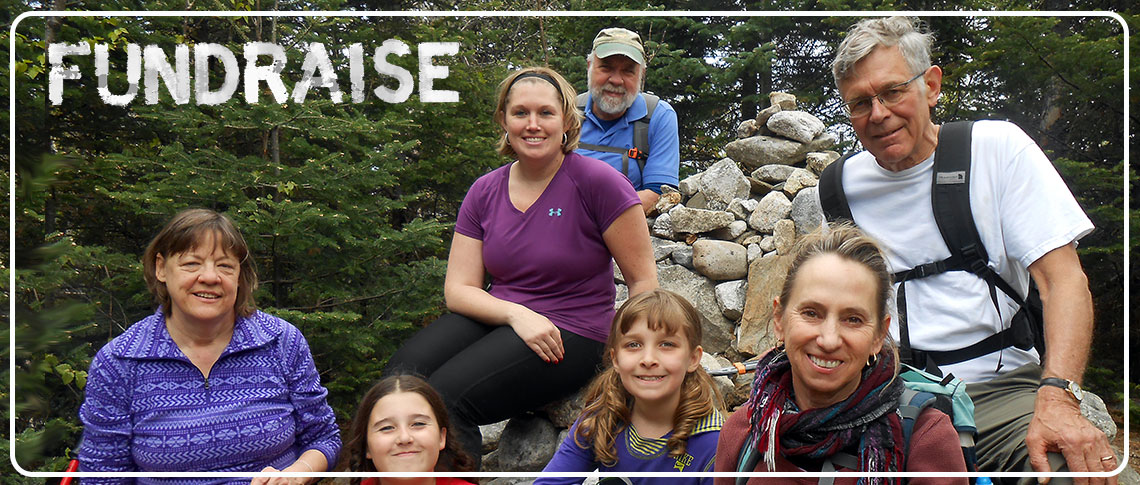 Get Started
We know that fundraising can be tough but don't worry — we've got your back! Our Hike Team is here to help you achieve your goals and put the "fun" in FUNdraising along the way! We look forward to an amazing day of hiking and coming together (in spirit!) to celebrate our shared connection of hiking. Together we can support the work that goes into caring for the hiking trails of Vermont!
YOUR SUPPORT CREW
Having trouble registering or getting back into your account from previous years? Check out our how-to document.
Please reach out if you have any questions:
Administartive Support longtrailday@greenmountainclub.org
Hike Planning - gmc@greenmountainclub.org or (802) 244-7037
Join our Facebook Group to keep up to date with other hikers!
FAQ
How do I register or sign in to my Participant Center from last year?
Even if you've participated in past Long Trail Days, you'll need to register for this year. However, you can access all of your custom content that you previously created. If you're having trouble, check out this step-by-step guide to the process.
How do I access my Participant Center?
You can access your participant center at any time to send emails, update your fundraising goal, and update your page.

How many people make up a team and what should our goal be?
Teams of up to 10 participants are welcome! We recommend setting your goal at $272 per registrant but any goal is accepted.
Looking for a team to join?
You are not required to join a team for this event. GMC is not organizing teams/groups but you are welcome to join our general Facebook Group: Long Trail Hiking- GMC Community after you register and look for other folks to fundraise or hike with there.
What are the rewards?
There is a $25 fee for each participant to register, which includes a special edition GMC Buff and a free digital Long Trail Map. We ask all participants on each team to register. Our grand prizes will go to the individual and team that raise the most money for the trail, and the individual and team who have the highest number of donors, so it pays to cast a wide net! The individual prize is a custom-made Thuja hoodie. The group prizes is an overnight stay for your group at a GMC rental cabin.
When is the deadline to register?
We take registrations up to September 10th, the day of the Hike! It's never too late.
Where do the funds go?
All funds raised through Long Trail Day go to support the maintenance of the Long Trail system of trails in Vermont, which is largely supported by our seasonal trail crews and backcountray caretakers. These instrumental staff members clear tree blowdowns and prevent erosion on the trail. They educate hikers, manage waste, and care for the local ecology of the trail. The Long Trail has been free for over 100 years. Your hard work will keep it that way.
The Green Mountain Club is a nonprofit 501(c)3 organization. All donations are tax-deductible as allowed by law.
How do I turn in donations for myself or team members?
Please share your personal fundraising page with your network. The easiest way for them to give is online by clicking your personal DONATE page button. However, to mail donations, please send to: Green Mountain Club 4711 Waterbury-Stowe Rd. Waterbury Center, VT 05677. Please indicate team name and hiker in the check memo.
What happens if I don't reach my goal?
That's perfectly okay! A goal is a desired result that a person envisions, plans, and commits to achieve, so do the best you can. We are here to help!
What happens if I cannot hike on Long Trail Day, September 10th?
You'll be a virtual hiker! We will miss seeing your hiking story, but completely understand that you love the Long Trail and just can't make it that day.
What do I receive for registering?
Every registered participant will receive a digital Long Trail map. Plus, the first 272 registered participants will receive a Long Trail Day Buff®!
What's the significance of the number 272?
The Long Trail is 272 miles long from the Vermont-Massachusetts border to Quebec. This is a fun goal for your fundraising and other participant incentives.
What are the other rewards?
Any individual who raises $272 or more will receive a Long Trail Day water bottle — design coming soon!
When will I receive my rewards?
Links to downoad your digital Long Trail map will be in your registration confirmation email. Buffs will be mailed out every two weeks. Additional applicable rewards will also be shipped out after the event.
Long Trail Day Fundraising Tips and Tricks
Choose one of these FUNdraising activities or create your own event to help your team make an impact in the support of the Long Trail!
Social media: Utilize Facebook, Twitter, Instagram, or whatever platform you like! Share your reason why the Long Trail is important to you, and use the hashtags #HIKEVT #LONGTRAILDAY
Just ask: Ask everyone for a donation – your hairdresser, doctor, neighbor, coworker, sister, grocery clerk, cousin…the key is just to ask! Also, by talking about your love of hiking and how important it is to care for trails, many folks are inspired to give.
Self-donate: Hikers who make a self-donation fundraise twice the amount of a hiker who does not donate. Set an example for your team and make that self-donation!
Update your team and personal page: Hikers who customize their fundraising page raise 3.5 times more than those who do not update their page.
Share your story! Having trouble coming up with a plan? Contact one of us and we can help you determine how to share your story to inspire support of the Long Trail.